Meet Becky Halvorsen
A Colorado native, Becky grew up on a ten-acre farm on Dillon Road in Lafayette, and is no stranger to hard work. Her and her brother raised and trained horses, had the usual farm animals – chickens, goats, pigs, sheep and steers and was active in 4-H and the Pony of the America's Club where they learned how to manage a variety of projects.
A Veteran, Becky joined the United States Air Force at the tender age of 16. She served at both George AFB in Victorville, California and Little Rock AFB in Arkansas and moved through the ranks from serving in the supply career field to the Crew Chief career field.  She served as Crew Chief on the C-130 Aircraft and as an instructor for the Field Training Detachment.  Her career in the Air Force spanned over twelve years and gave her much satisfaction and joy to have served.
Once Becky re-entered civilian life, she began her cleaning business and enjoys the fact that most of her clients come to her strictly through word-of-mouth.
Becky has been serving the greater Broomfield area for over 15 years.
Our Employees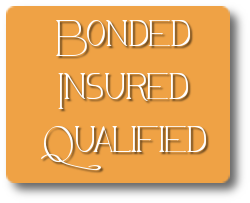 All employees are bonded, insured and go through a complete background check before they are hired.